How do I get to Cap d'Agde and what should I bear in mind when looking for accommodation? This is where you can find all the important information for your trip!
Getting there: How do I get to Cap d'Agde?
Zoom the map out to see the exact location of the Cap.
You can rent a car in Agde and in many surrounding towns.
You can find information on the prices and periods on the Internet.
In addition to hire cars, you can also reach the Cap by taxi, Uber and car-sharing agencies – but remember that you should be able to speak basic French to communicate with the Uber driver.
France has had low-emission zones since 2016. The Département Hérault, where Cap d'Agde is located, may also have regional zones to protect the air quality, so please find out in advance whether you need the appropriate stickers.
The speed limits in France are 50 km/h in built-up areas, 80 km/h outside built-up areas, 110 km/h for country roads and 130 km/h on motorways. You can find more information on speed limits and other driving advice on the French tourism website.
Apart from a few exceptions, you have to pay tolls to use motorways in France. Check your motoring association's website for detailed information on this. If you want to avoid the motorway toll charges, you can use the parallel roads, but you will need to plan an extra two to three hours when travelling from Mulhouse in the Alsace region to Agde, for example.
Expect congestion on the country roads when arriving or leaving at weekends.
In Agde, look out for the signs for the Village Naturiste. They appear relatively late, so continue driving towards Port Abonne if you miss them.
Refuelling: The cheapest filling station is at the large Hyper U supermarket.
Be aware that the are many speed cameras on the motorways and country roads, usually with warning signs about 500 meters in advance.
When is the best time to travel to Cap d'Agde?
May to September is the high season at Cap d'Agde. All hell is let loose during this period and the erotic lifestyle is celebrated around the clock in all its conceivable forms. The Cap hits its peak number of visitors between mid-July and mid-August.
The low season may appeal if you aren't into partying and would rather relax. Cap d'Agde becomes quiet at this time and its coast is an inviting place to relax and rest. This is when the 14 kilometres of beach are at their best, as they are pleasantly wide and also safe due to their sloping descent down to the water and flat sands entering the ocean. The quality of the seawater itself is very high thanks to the replenishing currents that keep it flowing.
However, most restaurants, bars and shops are closed during the low season. So ask yourself: "Why do I want to go to the Cap? To party or relax?" This will ultimately determine your personal preference.
Incidentally, the Cap celebrates Christmas on 24 July. We'll update you about Cap Christmas parties in good time in the JOYclub event calendar.
Tips about accommodation at Cap d'Agde
You should really plan your first trip to Cap d'Agde well. Book your accommodation early and bear in mind that not much is going on during the low season.
Hotel Le Jardin d'Eden
The Hotel Le Jardin d'Eden complex is completely in pink. The pool and jacuzzi are surrounded by playgrounds where wild orgies are celebrated every day. It is one of the most expensive places to stay at Cap d'Agde. Entry is restricted to hotel guests and those invited by hotel guests.
Hotel Le Jardin de Babylone
Le Jardin de Babylone is the Eden's sister hotel but a little less expensive. Just like at Eden, wild activities take place around (and in) the pool and jacuzzi every day. During high season, the Babylone opens the pool area two afternoons a week for its legendary pool parties. It is normal for the hotel to receive 500 to 1000 guests a day, and it is certainly one of the friskiest places in Agde.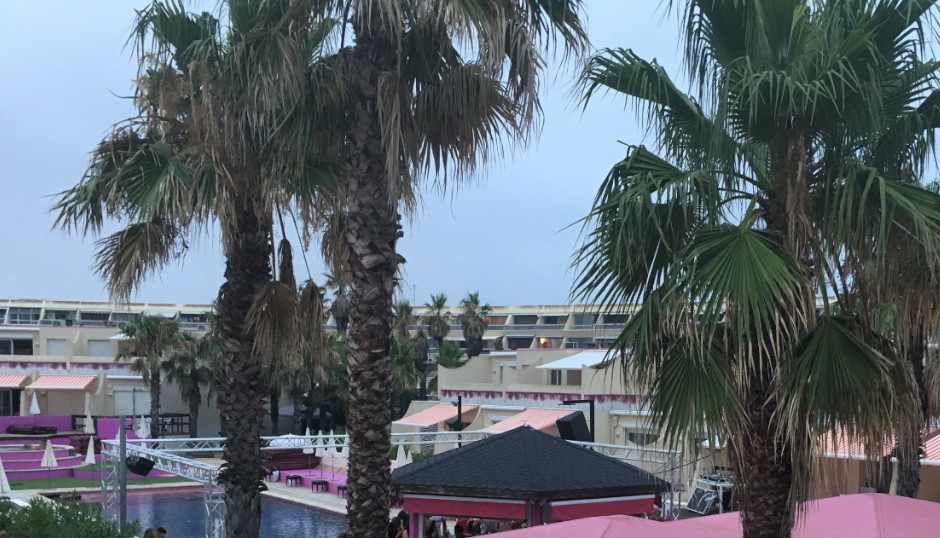 Camping at Cap d'Agde
The camp site René Oltra offers plots for camper vans and various bookable accommodation in addition to traditional camping spaces. From the small 11 m2 COCO DUO for two through to chalets for two people, four people or even six people – there's something for everyone. Even luxury cottages are available, each measuring 32 m2.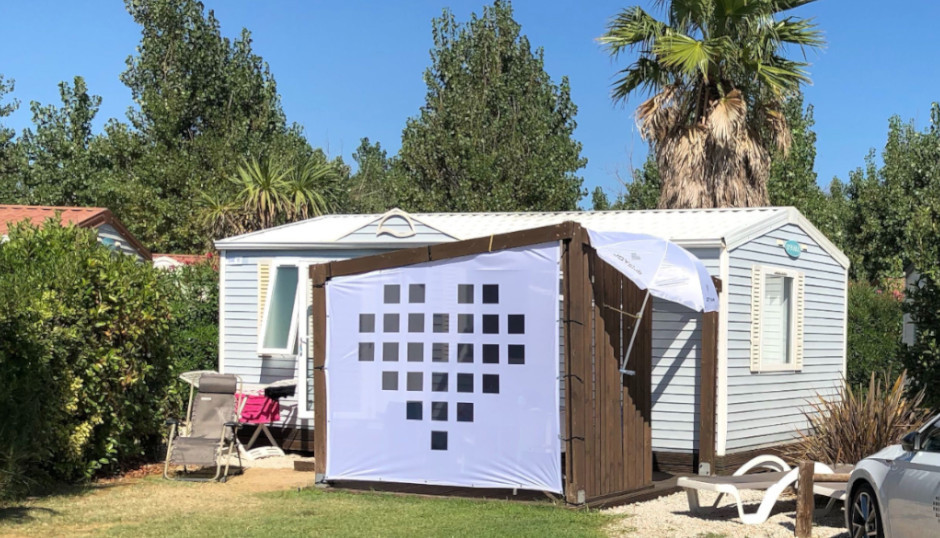 Other important information for Cap d'Agde
Driving to the naturist resort
You will need an entry ticket to get into Camp Naturiste. This will be sent to you beforehand if you book your accommodation, or you can buy it from the reception at the entrance. The site has ample parking. The cost of the entry ticket depends on the number of people and duration of the stay. A week ticket should cost about €65 for one car and two people.
There are two options for entry at the barrier:

Either you buy or have an entry ticket and drive in the left lane ("CARTES") past the security booth until you reach the reading machine. Then hold the ticket against the reader. The barrier will go up and you're done.
Or, if you don't have an entry ticket, you will need to take the right lane and might need to show your booking or check-in confirmation to the security staff at the barrier, which then be opened manually. Ideally, your number plate will be recognised because you entered it when booking and the barrier will open.
A number-plate reader is used for entry once the car's number plate has been given during booking or no later than check-in. No entry ticket is required.


There are parking spaces (for visitors) directly after the entrance on the left and right and there are often free spaces. Otherwise, you can park on the way to the beach, such as on the road to the camp site, but these are usually full.

Can I go to Cap d'Agde if I'm single?
You can in principle, but single men need to be aware that no-one is waiting for them with open arms. Even in Cap d'Agde, you will definitely need empathy, patience, style and a pinch of luck to hook up with like-minded people. Bring these with you, and nothing will stand in the way of a great holiday.
On the other hand, it's easier for single women to make friends. Quite a few even enjoy travelling there alone and being independent.
Can I take children on holiday to Cap d'Agde?
This question is one of the sensitive topics that is the subject of controversy and repeatedly enquired about. In essence, there is very little difference between the naturist resort at Cap d'Agde and those on the Baltic Sea or in other regions in Europe. However, what makes Cap d'Agde special is that sex and casually indulging in erotic activities is celebrated intensely in designated places and erotic activities play a prominent role in public spaces.
In theory, the camping complex and other sections of the normal beach – not including the Baie des Cochons (Bay of Pigs) of course – are also suitable for families and children. Nothing happens there that you wouldn't expect to see on any naturist beach. At the René Oltra camp site in particular, risqué appearance and eroticism are prohibited in public. However, during the day there may be public displays of erotic pleasure in areas of the large accommodations, including the associated background noises.
---
Do you know JOYclub? Become a part of our unique community and live your desires!
At JOYclub, there's a big, vibrant community waiting for you. Our fascinating content will turn your love life upside down. Whether you're male, female, hetero, LGBTQI, single or in a couple – live out your fantasies at JOYclub! We're looking forward to welcoming you!