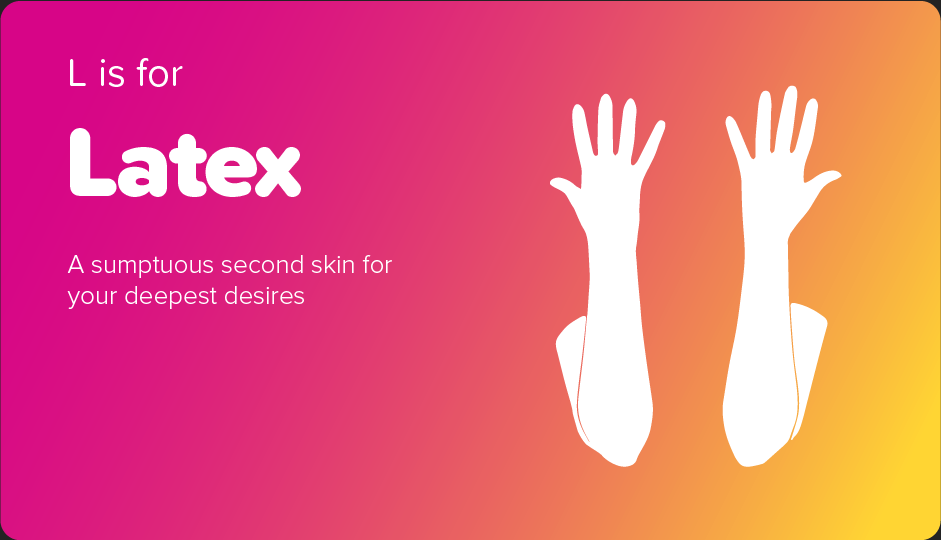 Sumptuously shiny and skin-tight, latex is more than just a fabric. It's a vehicle to realise your deepest fantasies and your truest self. Intense emotional and physical scenes play out through the ceremony of transforming yourself (or your plaything) into an object, a master, a fantasy or something entirely unknown which can only be discovered once the second skin has been donned.
Latex: lifestyle, kink, identity
It can be as simple as playing dress-up, but for many it's the discovery of an identity that exists deep within them, transmuted into something tangible through the process of rubbering-up.

Rubber can be a fetish, a lifestyle, a kink or a style choice. However it's incorporated into your play, it can be deliciously intoxicating and a mirror for our desires, which are reflected back to us when we gaze upon the shined exterior of rubber-clad bodies.
About the author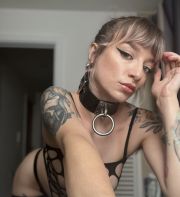 Poppy Scarlett
is a sex educator and latex-wearing kinkster based in London. For more latex content, follow her
Instagram
.
When Poppy's not making sex-ed content, she's doling out pleasure to the masses through her sex toy store, Self & More.

A Latex-love-story
Somewhere deep in suburbia, a corporate 9-5er and devoted husband slides into his full coverage rubber maid outfit after a hard day of selling his soul for a salary. All his worries melt away into a forgotten puddle somewhere out of sight, out of mind. When he is strapped into his almost-suffocating second skin, he is transformed. His sole purpose is servitude. He feels free.
"
Two lovers cover themselves head to toe in latex.
"
In a dimly lit dungeon, a mistress stands tall while her submissive dutifully shines her second skin. The very presence of her latex catsuit deepens the unspoken yet shared knowledge that her submissive will never be permitted to touch the flesh that lies beneath. Every curve of her body, accentuated, enhanced, her dominance amplified.

Two lovers cover themselves head to toe in latex. Every inch of their shiny bodies reflect not only the light, but their desire to be nothing but an object. You can't see their faces under the restrictive hoods which paint their expressions into a permanently-surprised vacant glare, but if you could, you'd witness pure abandon and bliss. Every touch is magnified by the protective layer they wear, their objectified bodies slip and slide together and nothing else matters.
Watch our video about Latex:
Rubber fetishism means a different thing for each person who finds themselves enthralled with the shiny stuff. Owning and donning latex can be ceremonial in nature. Not only does latex require a careful hand when climbing into it to avoid rips, it must be shined appropriately to keep its lustre and stored well to avoid sun-damage and wear and tear.

It's no easy material to work with and its very nature is oxymoronic. It's a second skin, versatile and delicate yet robust and amour-like. It's a symbol of submission and domination. It can be clothing or a tool. It's claustrophobic yet freeing. It's expensive but the feeling it unlocks is priceless.
When did latex become popular?
Latex, which is a naturally-occurring material derived from the sap of the rubber tree, has been synonymous with alternative lifestyles for some decades now. Shiny and skin-hugging materials symbolise sex and mainstream pop culture has often mirrored this, with many fashion houses and celebrities using kink aesthetics to reinforce their image as sexual, rebellious and at the cutting edge of fashion.

While many people gain their first glimpse of rubber through imagery which isn't explicitly kinky, seeing rubber clothing in the wild or in a mundane situation can be the gateway to realising your desire to be rubber-clad (or to worship someone who is), and this desire has been around since before it was adopted by pop stars and designers.

The rubber Macintosh is widely considered to be the garment that started shiny fetish culture. The process of making waterproof garments was patented by Charles Macintosh in June 1823, but rubber has been used for clothing since as early as 1600 BC by the Maya, Aztecs and Olmecs (Olmec roughly translates to rubber people).

As PVC and rubber gained popularity as materials, more and more people became infatuated with how they look and feel. John Sutcliffe, who originally intended to make 'weatherproof clothing for lady pillion riders' (motorcyclists to you and me), branched out from leather to latex and his creations were widely used for pleasure. His designs, along with his magazine AtomAge, which showcased a wide range of fetishes and a wealth of information around bondage, fetish clothing and dressing for pleasure, became a mainstay of the modern fetish scene.

Throughout the 50s, 60s and 70s fetish-loving subcultures started to emerge in greater numbers. Clubs and publications which celebrated fetish clothing and immortalised fetish fashion through writings, illustrations and photography became more commonplace. Over the years, many more latex companies started catering specifically to festishists with hoods, gloves and other types of kinkwear rapidly popping up.

These days you can access almost unlimited material on the topic of latex. Latex clothing and kink apparatus can be bought off the shelf or made to measure depending on your budget and rubber porn is only a mouse click away. Most cities will have sex clubs where you can fully immerse yourself in latex culture and there are thousands of fetishists online eager to meet likeminded latex lovers.
"
Now, where did I leave my shining fluid?
"
Explore. Connect. Meet. Play.
Explore JOYclub
Do you know JOYclub? Become a part of our unique community and live your desires!
At JOYclub, there's a big, vibrant community waiting for you. Our fascinating content will turn your love life upside down. Whether you're male, female, hetero, LGBTQI, single or in a couple – live out your fantasies at JOYclub! We're looking forward to welcoming you!

Join JOYclub for free
Connect in JOYclub

Meet in JOYclub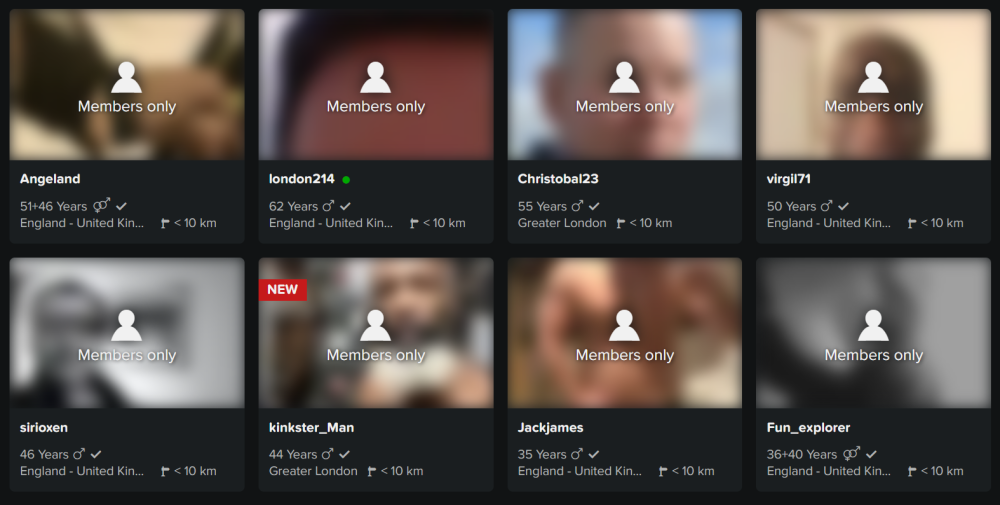 Play in JOYclub